I know, I have to tell you alot !
first of all.. My schoolyear's finished (7th specialisation year) and next year I go to "high school" (maybe it means something else but I mean to studying further) And this also takes 3 years of my life (:
I was pretty shocked by the results (in positive way) My total doesn't matter but it was good itself. For 1 thing I had like: 95% ! That's more then just amazing! (in my case :p)
So that was the last footstep I ever putted in that school. Up to the next one ;-)
I finished my 2nd book of twilight named: "new moon", and I started reading the 3rd one's named: eclipse :d woohoo !
My boyfriend went to a LAN-party, so I was alone for like .. 2 days !! :(
But when he got home, it was dark and full with candles!! He made dinner ( ehm the oven did it :p ) but it was delicious .. but nothing special though, hehe.
Then we took a bath, with my lushball: sexbomb.
I was really happy with the fact he wanted to suprise me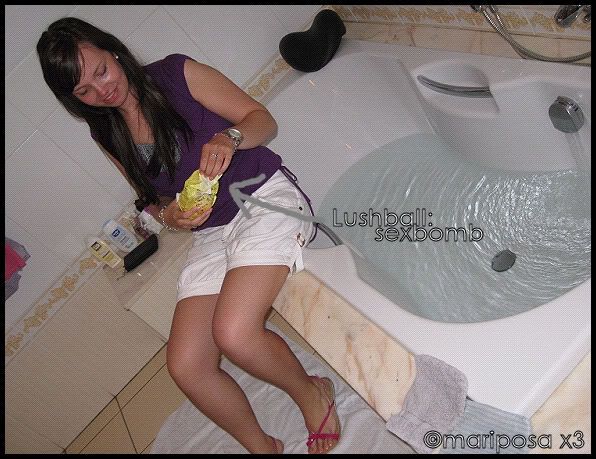 me and the unpacked lushball (:
the lushball-reaction with the water
result: a pink bath! It could be more pinkier, but I havn't used the whole ball because I wanted him to use another time ;-)
.
.
.
Yesterday we were searching for a new notebook, because I need one for school next year ..
I saw a really nice one, but the men who worked there, told me the other one is the only with 8hours active battery.. So I bought that one. It's an ACER, but don't know exactly which version.
But the problem was .. they were all selt out! So there will be more on tuesday...
After taking a look in the store I saw the phones and offcourse the blackberry!!!!
It's a phone I want for a while. So I will get him too on tuesday !! woohoo! Can't wait!