First of all! I wish everyone a merry christmas and I hope you have a great time! Christmas-time is so

COSY!
Before the whole thing around christmas we were home alone and we tested my bf's birthdaypresent I gave him.
A machine for melting chocolat and then you can put fruit in it and that's de-li-ci-ous!! OR you can also make pralines!
We used strawberry and bananas. But I think you can do it with lots of other fruit... That's for another time ;-)
Here you see that we used white chocolat (that's our favorit) and that's melting.
It doesn't take long before it's all melted and looks softly. It was very nice though.
The picture below is the used fruit :)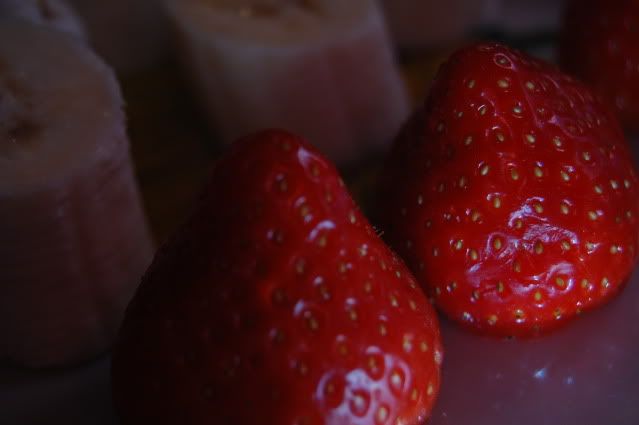 Also my cat likes it! hehehe ...
_______________________________________________
Now the whole

chrismas

happening ..
Me and my bf celebrated it at my home. Because I was still sick( which I haven't told here yet, sorry. That was 1 of the reasons why no updates. the other reason is: I have to study till I drop! 6 january I start with exams! And it all or nothing so it's also my first on the highschool so I hope I do my best and don't have to remake them again in august )
I got alot of present.. Some, I've never expected (especially those from my bf, instead) But that's a reason for.. We bought a Bongo for a citytrip/shopping. Because I really wonna do London again. In february we did Paris. The aim was for using him in this vacation, but because we have to study alot we had no Time. So we think of using him after the exams or the next vacation we will have.
So what I got from my bf was a

new lamp

for my night cupboard. He broke my previous one. Not with a button to put him on, but to touch him he lighted up. And touch again and he was out.
And the other present, haha,

Hot socks

! kind of slippers with lavendel and ?wheat? So you can put him in you micro-wave and put them on! He bought this because I ALWAYS have could feet. And when we're going to bed I put my icey-ice cold feet to him because he's always a hottie.
Then I got the sims 3 expansion pack. That's the only game I like to play HAHA!
Also a

teddybear

with a hot pitcher in it. Looks so cute!
It's that thing I got in my hands (I know, it's not very clear but ahh ;) ) I will definatly use it when I've got pain in my stomach again.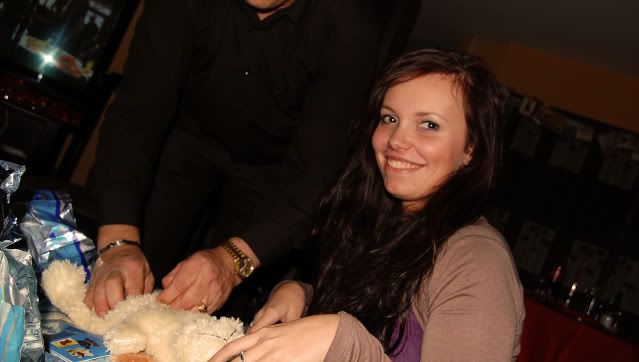 Then other stuff too. But the gift I really Adore is this I got from my mum!
A necklace and earrings from Guess. I love

Guess

!
The price was written on the card of the earrings, that's what explains the scribbling on it ;)
I also bought 2 presents for my bf. This little cute thing: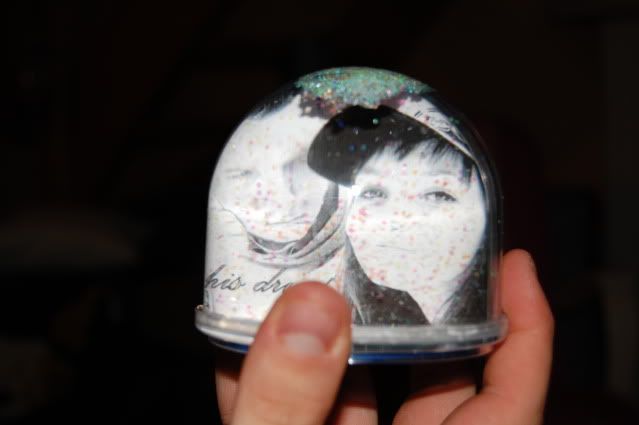 And also a kind of radio with touchscreen, alarm clock, and you can put in your ipod! I knew this was something he really wanted for couple of months.. He was glad
Also my mum looked so pretty! I gave her more then 2 presents but I will show you one, where I had alot of work on it! For making the right size of pictures ..
She was sooo happy with it :) So that makes me happy too.