hi! Our week
Turkey
was overdelicious!
We had so much fun and ofcourse we're relaxed :) We had nice wether and it was over the 45° . The hotel was big, nice and very beautiful but if we talk about the people who work there, I'm pretty mad. No good service at all and if you ask something, they don't even know! and the worst of all: they only can turkish( what's normal) but German too! no single word of english! what was really sad. Because I can't talk German at all! ha ..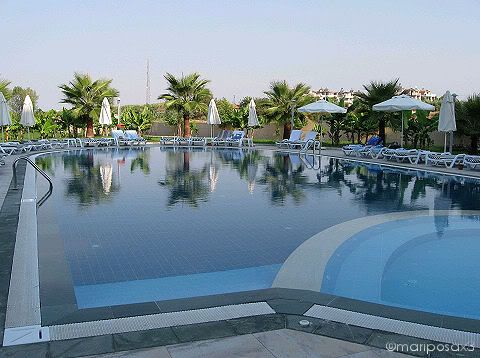 .
We had 3 outdoor swimmingpools and 1 indoor swimmingpool. But the last one was always closed 0.o
Then about the dranks .. the soft drinks wasn't what it should be .. and the strong drinks too. And you had to pay extra if you wanted a
cocktail
( so this wasn't inclusive ! )
The food was overwhelming! too much but it was delicious. I got some weight extra now :(
The first day we entered at the hotel was 6am! we were so tired because the flight was 3,5hours and after that .. 2 hours with a bus to our hotel! we were exhaused.
We were in the middle of nowhere and it called: Kizilot.. near to Alanya, 9km from Manavgat and +/- 16km from Side and more than 80km from the airport.
We visited both!
here's a picture of Side
The swimmingpool was very nice! 3/4 of our vacation we spend at the swimminpool! The hotel had his own private beach where you could do alot of watersports like paraseiling, jetski, ...
And you have the "main restaurant" but also 3 a-la-carte restaurants which you can eat 1 time a week. You had a chinese, a turkish and an italian restaurant. We did the last 2.
This was at the italian restaurant
and those 2 were at the turkish restaurant.
In front of the Main restaurant with 2 animators :)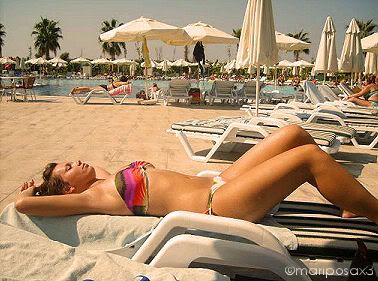 I'm in love with this picture!
and then.. the part I never like .. Going home ! :(
The last day, we had to leave it was storming like hell! I'd never had seen something like that! Raining, thunderstorm, ... I was so scared, because we had to take the plane. But everything was just fine :) just a little bit turbulention but fine :)