She was locked up in her cage to transportate her to the vet. It was so pitiful.. How she looked to me, and no food at all.. She had erhm .. her period ;-) she was all day meowing, I was going crazy! When studying and constantly hearing your cat irritated me a little.. and maybe not pretty for herself. So we went to the vet for sterilisation.
at 10am the operation started and from 12pm we had the ability to get after her !! She's still very sleepy.. ohh! it's so pitiful. She try to stand straight and the she falls down ..
This is how she looks like.. the link has to stay on for 10days! omgee.. I don't think that is possible 0.o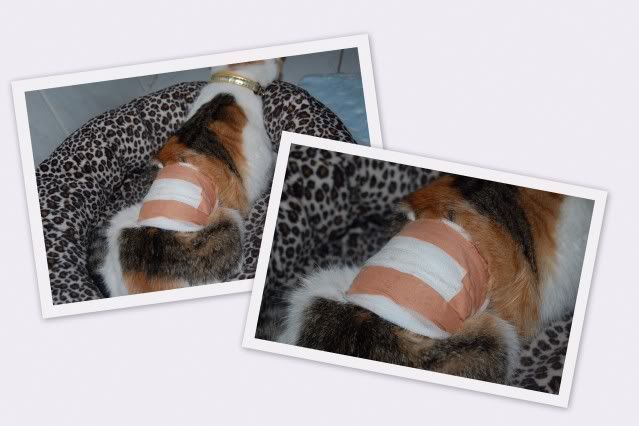 Now she's locked up in the bathroom. 1:It's hot in there. 2: there are no dangerous objects, or she can't fall.. Because she's still sleepy, and that's dangerous because she's vulnerable.
Also I had oral exam today.. The task was: tell a story for kids AND talk like we've learned. So you're pronouncement is very important! Per 4 students we had to enter the class. Tell our own story to the other 3. I think I did it pretty good. I missed 1 word and I was forgotten the next.. but it turned all OK :) Now it's weekend and then 2MORE TO GO!! Yayy..
So.. this is what I wore today :)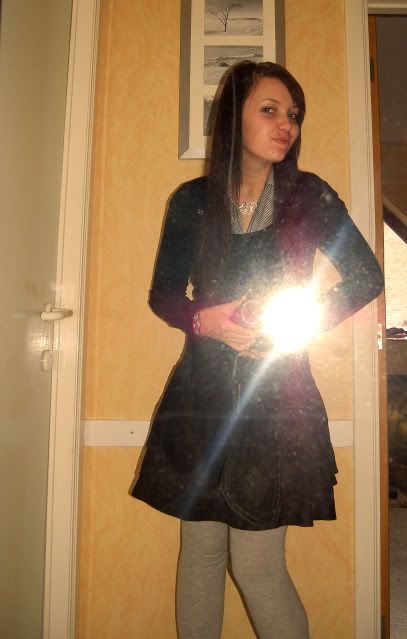 When I got home I was pretty tired of a full week with exams.. A portion of stress and sleepless nights. So that's the reason I updated :) And not spending to learn. I still have tomorrow and sunday. For preparing a drama excercise which I have on monday. Tuesday I have to learn 10songs out of my head and playing 10 songs with my flute. It means without musicnotes or text! Pff, I hate playing flute. It's quied difficult and nothing for me :) I'd rather love to play guitar, which I'm learning too in extra lessons. -Finally- .
What I tried to say was: when I got home, I saw this in my room. And I was thinking of all the good times, me and my boyfriend had :) He also gave me this : (It's been a long time, you can see it on my hair... It was so flat and my fringe wasn't a fringe anymore, haha! )